Devils Tower

A photo donation from the Devils Tower Lodge
Devils Tower, located in northeastern Wyoming, has some of the best crack climbing in the world. With over 200 established routes, this formation will hopefully be one of our annual destinations.
This picture was taken early in the morning, outside the park, southeast of the tower.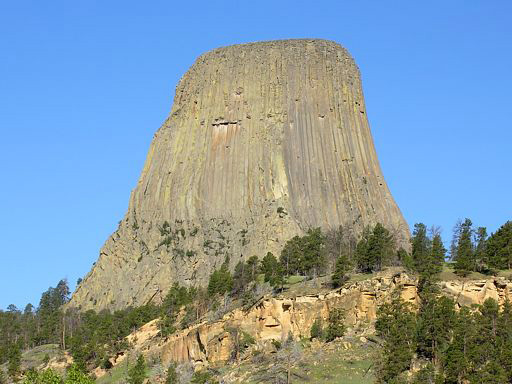 ---
My partner, John Benson, took this back in August of 2001, as we started up pitch one of Soler, 5.9-. This is a great and exciting climb! Starting out with a fairly easy wide hand crack, it narrows quickly in the 2nd pitch, requiring a lot of faith in your small stoppers.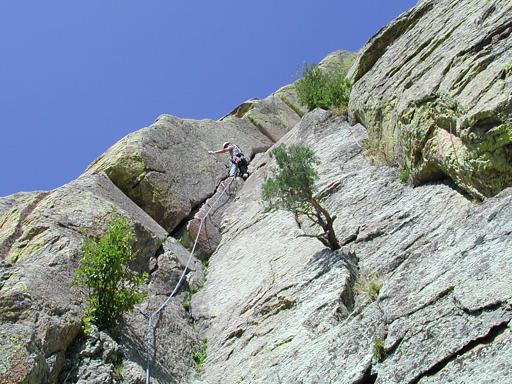 ---
As John and I worked up the 1st pitch of Soler on the southeast face, the sun hit us hard. We realized quickly that our water supply, one quart each, wasn't going to make it. Feeling the affects of dehydration already after just one pitch, I stuck the camera away and got down to business, finishing the climb. However, now, thanks to Frank Sanders - Devils Tower Lodge Host, Fitness Trainer and Climbing Guide, I've got another shot looking down from the top of Soler's 2nd pitch. Thanks Frank!
You can see from the lack of direct sunlight in Frank's photo, and from the shadows below, he had the sense to wait until later in the day, with the sun off to the west. I guzzled down three quarts of sport drinks in two hours after completing this route, before hitting the beer.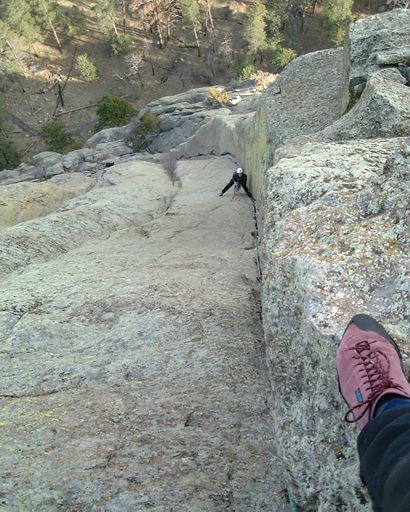 ---
Driving up to the Visitors Center at the base of Devils Tower, this is the view from the parking lot. For many of the tourists, this is their first exposure to climbing. Anyone hiking up to or down from the tower with climbing gear should be prepared for a few inquiries along the way, like "Are you going to climb that?!"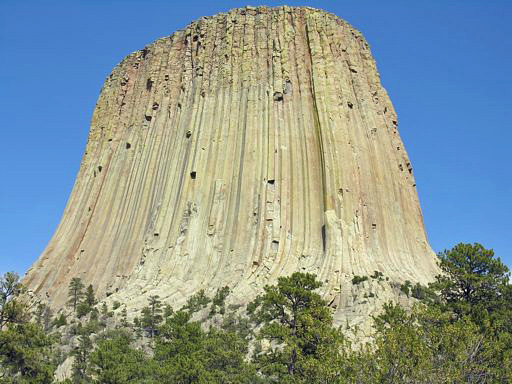 ---
Looking a little closer at the shot above, we can see climbers on two of Devils Tower's classic routes: Tulgey Wood (5.10a), and McCarthy West Face - Free Variation (5.10b).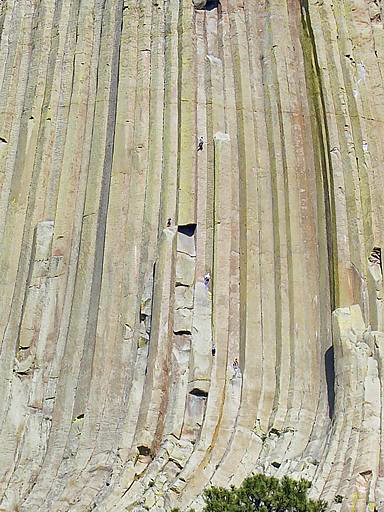 ---
Suzy took this sleepy late evening shot of the tower May 29th, 2005, during a quick one day stop on our way over to City of Rocks, Idaho, via the scenic route.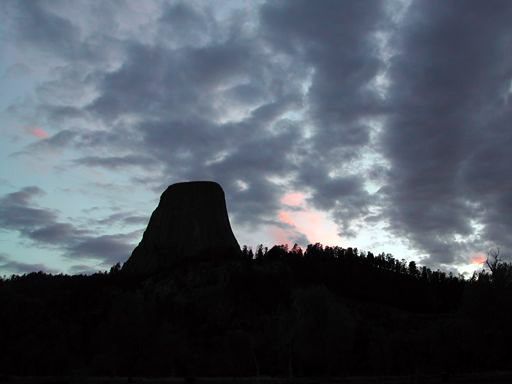 ---
A photo donation from the Devils Tower Lodge
---
Aerial Photo of Devils Tower via TerraServer-USA
---
Area Guide Books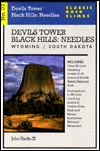 Devils Tower/Black Hills: Needles, Wyoming and South Dakota
Out-of-Print

Guide to the Wyoming Mountains and Wilderness Areas: Climbing Routes and Back Country
Out-of-Print

Rocky Mountain Rock Climbs (Climber's Guide to North America)
Out-of-Print
Devils Tower National Monument Climbing Handbook
Published by Devils Tower National Historic Association
May only be available at the Devils Tower Vistitors Center at the base of the tower.
---